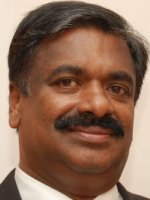 W.Bro. P. T. Mohan Babu
Worshipful Master 2008
Lodge Trivandrum No. 168
W. Bro. P.T. Mohan Babu
Pineruvila Thomas Mohan Babu s/o of late P.O. Thomas Vaidyan, had his schooling at Infant Jesus Higher Secondary School, Tangasseri, Kollam, did his Pre-Degree at Mar Ivanios College, Thiruvananthapuram and graduated in Civil Engineering from College of Engineering, Trivandrum in the year 1977.
While a student, was active in sports and games. The school champion in sport in 1968 and was a member of the Football and Hockey school team as well in the college teams, represented the District and State school hockey team in 1969.

After the college education in engineering, immediately joined Kerala PWD – Irrigation Dept. at Chimmini-Mupli Dam works at central circle Trichur for a short term. Thereafter joined the family hospitality business. By profession a Structural Engineer, aided by SCADDS software had accomplished many structural designs for various buildings of various municipalities in Kerala and else where.
Married in 1978 to Mrs. Seru Mohan Babu, a Civil Engineer and blessed with two sons. Elder son Mosu Mohan Babu a Software Engineer working with Merrill Lynch India Technology Services, Chennai is married to Dhanya also a Software Engineer working with Mindtree Solutions, Chennai. And the second son Jisu Mohan Babu is also a Software Engineer working with Sathyam Computers, Chennai.