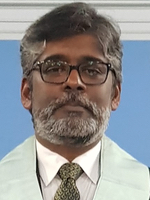 W.Bro.V.A. Surendranath
Worshipful Master 2019
Lodge Trivandrum No. 168
W.Bro. Surendranath Villupuram Amarnath was born in Chennai on the 21st November 1969 to Mr.V. S. Amarnath, Mrs. Sarojini Amarnath as their eldest son. Mr. Amarnath was employed with Reserve Bank of India, Chennai.
Bro. Suri, as he was known to his friends, earned his Master's Degree in Computer Applications (MCA) in 1993 from the College of Engineering, Trivandrum. An Information Technology specialist, Suri spent over 14 yearsin Chicago, delivering IT solutions for Fortune 500 companies.In 2008, he co-founded Thoughtline Technologies, an IT company based in Technopark, with operations in India, USA and Europe.
For detailed Masonic Biodata, click here.
| | |
| --- | --- |
| W. Bro. Surendranath V. Amarnath | W.M |
| W. Bro. Rajagopal K.V | I.P.M |
| Bro. Anil Kesavan | S.W. |
| Bro. Dr. Madhav Manoj | J.W. |
| W. Bro. Dr. J. Sunil Kumar | Chaplain |
| W. Bro. R. Sridhar | Treasurer |
| W. Bro. S. Sreekumar | Secretary |
| W. Bro. Dr. Manoj C. Balagopal | Dir. of Cer. |
| Bro. Dr. Kishore Somanathan | S.D. |
| Bro. Deepak Krishnakumar | J.D. |
| Bro. Santhosh Cherian | B.V.S.L. |
| Bro. Anil Sreedhar | B.V.S.L. |
| Bro. Dr. Madhu Kandekath | B.V.S.L. |
| Bro. Aravind Rajenesh | B.V.S.L. |
| Bro. Kathiresh Kandaswamy | B.V.S.L. |
| Bro. Dr. Abraham Thomas | Sword Bearer |
| Bro. Vivek Prakasam | Asst. Secretary |
| Bro. Dr. Vishnu Sunil Jayakumar | Asst. D of C |
| W. Bro. V.R. Harikumar | Almoner |
| W. Bro. Ben Roy | Organist |
| Bro. Dr. R. Achuthan Nair | I.G. |
| W. Bro. Dr. Rejnish Kumar | Pres. of Stewards |
| Bro. Dr. Nesaraj Harrison | Steward |
| Bro. Chinnaiyan Vellaisamy | Steward |
| Bro. Vijai Sreekumar | Steward |
| Bro. Jithin Mathew Kurien | Steward |
| W. Bro. Sankar Krishnan | Tyler |
Elected Members of the Standing Committee:
W. Bro. S. Ramnath and W. Bro. Raghavan Prakasam
Preceptors of the Masonic Study Circle:
R.W.Bro. P.G. Sukumaran Nayar, R. W. Dr. P.A. Thomas
R.W.Bro. Dr. G.R. Nandakumar, R. W.Bro. P.B. Menon
Web Master: R. W. Bro. P. Vijay Kumar
Web Editor: R. W. Bro. A. Jayapalan
News Letter Editor: W. Bro.B.P. Dinesh
Asst. Editor: Bro. Abhilash Jayapal
Mentors
R.W. Bro.Dr. Ravi Kumar, R.W. Bro. D. Santhi Kumar
R.W. Bro.P. Vijay Kumar, Bro.Brig. G. Mohan