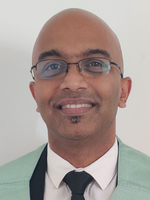 W.Bro.Dr. Madhav Manoj
Worshipful Master 2020
Lodge Trivandrum No. 168
W.Bro. Madhav Manoj K was born on Sept 12 1973, as the eldest to Adv K. Karunakaran, erstwhile Mayor Trivandrum City and Dr. Vijaya Nair, Former Additional Director of Kerala Health Services. He had his primary schooling in Holy Angels' Convent and completed his secondary schooling from Govt. Model High School; he finished his Pre-degree from Mar Ivanios College in1990.
Initiated on19th March 2011 and raised to the sublime degree on 19th May 2012, he served Lodge Trivandrum No: 168 in several offices including Steward and Treasurer.
For detailed Masonic Biodata, click here.
| | |
| --- | --- |
| W. Bro. Dr. Madhav Manoj | W.M |
| W. Bro. Surendranath V. Amarnath | I.P.M |
| Bro. Dr. Kishore Somanathan | S.W. |
| Bro. Deepak Krishnakumar | J.W. |
| W. Bro. Dr. Manoj C. Balagopal | Chaplain |
| Bro. Abhilash Jayapal | Treasurer |
| Bro. Brig. G. Mohan | Secretary |
| W. Bro. Sankar Krishnan | Dir. of Cer. |
| Bro. Dr. R. Achuthan Nair | S.D. |
| Bro. Dr. Vishnu Sunil Jayakumar | J.D. |
| Bro. Anil Sreedhar | B.V.S.L. |
| Bro.Jithin Mathew Kurien | B.V.S.L. |
| Bro. Kathiresh Kandaswamy | B.V.S.L. |
| Bro. Nikhil Pradeep | B.V.S.L. |
| Bro. Visakh Kandankot | B.V.S.L. |
| Bro. Santhosh Cherian | Sword Bearer |
| W. Bro. Dr. Raghavan Prakasam | Asst. Secretary |
| Bro. Vivek Prakasam | Asst. D of C |
| W. Bro. B. P. Dinesh | Almoner |
| Bro. Chinnaiyan Vellaisamy | Organist |
| Bro. Dr. Vivek V | I.G. |
| W. Bro. Dr. J. Sunil Kumar | Pres. of Stewards |
| Bro. Dr. Abhilash Haridas | Steward |
| Bro. Unnikrishnan S | Steward |
| Bro. Dr. Anu Antony | Steward |
| Bro. Abhiram Sarat | Steward |
| W. Bro. Rajagopal K.V | Tyler |
Elected Members of the Standing Committee:
R.W. Bro. P. Vijay Kumar and W. Bro. Roy Peter
Preceptors of the Masonic Study Circle:
R.W. Bro.Dr. Ravi Kumar, R.W.Bro. P.G. Sukumaran Nayar
R. W. Dr. P.A. Thomas, R.W.Bro. Dr. G.R. Nandakumar
Web Master: R. W. Bro. P. Vijay Kumar
Web Editor: R. W. Bro. A. Jayapalan
News Letter Editor: W. Bro.B.V. Krishna Kumar
Asst. Editor: Bro. Aravind Rejenesh
Mentors
R.W. Bro. D. Santhi Kumar, R.W. Bro. P.B. Menon
W. Bro. V.R. Harikumar, W.Bro.Dr. Rejnish Kumar