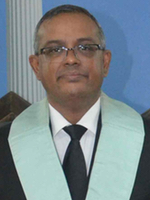 W.Bro.Sankar Krishnan
Worshipful Master 2017
Lodge Trivandrum No. 168
Sankar Krishnan was born on 1st November, 1967. He is a former partner of McKinsey & Company and is now focused on developing sustainable solutions to developmental challenges in healthcare and education.
Sankar holds an MBA from IIM-A and a B.Tech degree in Computer Science and Engineering from the University of Kerala, finishing college first, and University third rank across all branches.
Sankar is married to Divya, who is also an alumnus of IIM-A and their daughter Nayanika is in the 12th Standard.
For detailed Masonic Biodata, click here.
| | |
| --- | --- |
| W. Bro. Sankar Krishnan | W.M |
| W. Bro. Dr. Manoj C. Balagopal | I.P.M |
| Bro. K.V. Rajagopal | S.W. |
| Bro. Surendranath Amarnath | J.W. |
| W. Bro. Dr. Raghavan Prakasam | Chaplain |
| W. Bro. Roy Peter | Treasurer |
| V. W. Bro. P. Vijay Kumar | Secretary |
| W. Bro. V. Sudhakar Rao | Dir. of Cer. |
| Bro. Anil Kesavan | S.D. |
| Bro. Dr. Madhav Manoj | J.D. |
| Bro. Dr. Philip Oommen | B.V.S.L. |
| Bro. Dr. Madhu Kandekath | B.V.S.L. |
| Bro. Santhosh Sreenivasan | B.V.S.L. |
| Bro. Dr. Vivek V | B.V.S.L. |
| Bro. Arvind Rajenesh | B.V.S.L. |
| Bro. Dr. Vishnu Sunil Jayakumar | Sword Bearer |
| Bro. Dr. R. Achuthan Nair | Asst. Secretary |
| Bro. Deepak Krishnakumar | Asst. D of C |
| W. Bro. B.P. Dinesh | Almoner |
| Bro. Dr. Abraham Thomas | Organist |
| Bro. Dr. Kishore Somanathan | I.G. |
| W. Bro. B. V. Krishna Kumar | Pres. of Stewards |
| Bro. Sankaranarayanan P.D. | Steward |
| Bro. Vivek Prakasam | Steward |
| Bro. Somnath Kishore | Steward |
| Bro. Nikhil | Steward |
| Bro. Vinay Prathap Pillai | Steward |
| W. Bro. Dr. J. Sunil Kumar | Tyler |
Elected Members of the Standing Committee:
W. Bro. R. Sridhar and Bro. Brig. Mohan
Preceptors of the Masonic Study Circle:
R.W.Bro. P.G. Sukumaran Nair, R. W. Dr. Ravi Kumar,
R.W.Bro. Dr. P.A. Thomas, V. W.Bro. P.B. Menon
Chief Editor: W. Bro.Rajenesh Clement
e-Editor: Bro. Anil Sreedhar
Web Editor: R. W. Bro. A. Jayapalan
Web Master: V. W. Bro. P. Vijay Kumar
Mentors
W. Bro. S. Ramnath, W. Bro. Hari Kumar
W. Bro. Rejnish Kumar, W.Bro. S. Sreekumar