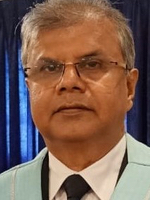 W.Bro.Anil Kesavan
Worshipful Master 2022
Lodge Trivandrum No. 168
W. Bro. Anil Kesavan was born on the 17th October 1961 to Shri. K. A. Kesavan and Smt. Sathyabhama. Shri. K A. Kesavan, was an Officer of Indian Navy. Anil has two brothers, Col. Arun Kumar and Mr. Ajan.
Bro Anil Kesavan did his schooling at Kendriya Vidyalaya, Colaba, Mumbai and Pattom, Trivandrum. He graduated from the University College, Trivandrum with Geography as his optional subject. He did his Post Graduation in Geography also from the University College Trivandrum in 1984.
For detailed Masonic Biodata, click here.
| | |
| --- | --- |
| W. Bro. Anil Kesavan | W.M |
| W. Bro. Dr. Madhav Manoj | I.P.M |
| Bro. Dr. Kishore Somanathan | S.W. |
| Bro. Dr. R. Achuthan Nair | J.W. |
| W. Bro. Sankar Krishnan | Chaplain |
| Bro.Santhosh Cherian | Treasurer |
| W. Bro.B.V. Krishna Kumar | Secretary |
| W. Bro. Rajagopal K.V | Dir. of Cer. |
| Bro. Dr. Vishnu Sunil Jayakumar | S.D. |
| Bro. Dr. Vivek V | J.D. |
| W.Bro. A.S. Ben Roy | B.V.S.L. |
| Bro. Dr. Snehapalan | B.V.S.L. |
| Bro. Dr. Prakash Ramakrishnan | B.V.S.L. |
| Bro. Abhilash Jayapal | B.V.S.L. |
| Bro. Unnikrishnan Nair | B.V.S.L. |
| Bro. Kathiresh Kandaswamy | B.V.S.L. |
| Bro. Vivek Prakasam | Sword Bearer |
| Bro. Chinnaiyan Vellaisamy | Asst. Secretary |
| Bro. Aravind Rajenesh | Asst. D of C |
| W. Bro. Dr. J. Sunil Kumar | Almoner |
| Bro.Jithin Mathew Kurien | Organist |
| Bro. Anil Sreedhar | I.G. |
| W. Bro. V. Sudhakar Rao | Pres. of Stewards |
| Bro. Dr. Anu Antony Varghese | Steward |
| Bro. Abhiram Sarat | Steward |
| Bro.Ranjith Vijayan | Steward |
| W. Bro. Surendranath V. Amarnath | Tyler |
Elected Members of the Standing Committee:
Bro. R. Sridhar and W. Bro. Roy Peter
Preceptors of the Masonic Study Circle:
R.W. Bro.Dr. Ravi Kumar, R.W.Bro. P.G. Sukumaran Nayar
R. W. Dr. P.A. Thomas, R.W.Bro. Dr. G.R. Nandakumar
R.W. Bro. D. Santhi Kumar
Web Master: R. W. Bro. P. Vijay Kumar
Web Editor: R. W. Bro. A. Jayapalan
News Letter Editor: W. W. Bro. P. T. Mohan Babu
Asst. Editor: Bro. Vishak Kadankot
Mentors
V.W. Bro. S. Ramnath, W. Bro. Dr. Rejnish Kumar
W. Bro. Rajenesh Clement, W.Bro.Dr. R. Prakasam
W. Bro. B.P. Dinesh, W. Bro. Dr. C.B. Manoj