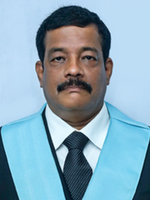 W.Bro.Rajagopal K.V
Worshipful Master 2018
Lodge Trivandrum No. 168
W.Bro. Rajagopal was born on 14th July 1959 and was initiatied into Freemasonry on 18th April 2009.
Rajagopal is the Chief Executive Officer of Anand Niketan - a full service contracting company offering professional build and design services as well as real estate buying and selling, rentals, and property management services.
Rajagopal is married to Savitha, and they are blessed with a son and a daughter.
For detailed Masonic Biodata, click here.
| | |
| --- | --- |
| W. Bro. K.V. Rajagopal | W.M |
| W. Bro. Sankar Krishnan | I.P.M |
| Bro. Surendranath Amarnath | S.W. |
| Bro. Anil Kesavan | J.W. |
| W. Bro. Sudhakar Rao | Chaplain |
| W. Bro. R. Sridhar | Treasurer |
| W. Bro. Dr. Raghavan Prakasam | Secretary |
| W. Bro. Dr. J. Sunil Kumar | Dir. of Cer. |
| Bro. Dr. Madhav Manoj | S.D. |
| Bro. Dr. Kishore Somanathan | J.D. |
| Bro. Santhosh Cherian | B.V.S.L. |
| Bro. Sankaranarayanan P.D. | B.V.S.L. |
| Bro. Dr. Vivek Prakasam | B.V.S.L. |
| Bro. Dr. Philip Oommen | B.V.S.L. |
| Bro. Kathiresh Kandaswamy | B.V.S.L. |
| Bro. Dr. Abraham Thomas | Sword Bearer |
| Bro. Brig. G. Mohan | Asst. Secretary |
| Bro. Anil Sreedhar | Asst. D of C |
| Bro. Dr. R. Achuthan Nair | Almoner |
| Bro. Dr. Vishnu Sunil Jayakumar | Organist |
| Bro. Deepak Krishnakumar | I.G. |
| W. Bro. B.P. Dinesh | Pres. of Stewards |
| Bro. Nikhil Pradeep | Steward |
| Bro. Vinay Prathap Pillai | Steward |
| Bro. Dr. Nesaraj Harrison | Steward |
| Bro. Abhilash Jayapal | Steward |
| Bro. Jithin Mathew Kurien | Steward |
| W. Bro. Dr. Manoj C. Balagopal | Tyler |
Elected Members of the Standing Committee:
R. W. Bro. D. Santhikumar and W. Bro. Rajenesh Clement
Preceptors of the Masonic Study Circle:
R.W.Bro. P.G. Sukumaran Nair, R. W. Dr. Ravi Kumar,
R.W.Bro. Dr. G.R. Nandakumar, R. W.Bro. P.B. Menon
Chief Editor: W. Bro.S. Ramnath
Asst. Editor: Bro. Abhilash Jayapal
Web Editor: R. W. Bro. A. Jayapalan
Web Master: R. W. Bro. P. Vijay Kumar
Mentors
W. Bro. Rejnish Kumar, W. Bro. S. Sreekumar
W. Bro.B.V. Krishna Kumar, W.Bro.N.S. Thankaprasad