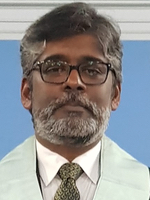 W.Bro.V.A. Surendranath
Worshipful Master 2019
Lodge Trivandrum No. 168
W.Bro. Surendranath Villupuram Amarnath was born in Chennai on the 21st November 1969 to Mr.V. S. Amarnath, Mrs. Sarojini Amarnath as their eldest son. Mr. Amarnath was employed with Reserve Bank of India, Chennai.
Bro Surendranath did his schooling in Madras Christian College. But the family had to move to Trivandrum in 1981. Incidentally, his father was among the first batch of Reserve Bank of India officers who were deputed to setup the Bank's Trivandrum Office. Bro Surendranath finished his schooling in Government Model High School, Trivandrum. He joined the Government Arts College and then Mar Ivanios College, for his Bachelor's Degree in Chemistry. He earned his Master's Degree in Computer Applications (MCA) in 1993 from the College of Engineering, Trivandrum.
Suri, as he was known to his friends, soon started his career in Information Management Resources, one of the first companies to setup office at Technopark, Trivandrum, in 1993.Within a year, he moved to Chicago, USA, just about the time when India started flexing its muscles as an IT powerhouse. In US, he spent over 14 years delivering IT solutions for Fortune 500 companies.He also secured a Master's Degree in Business Administration from Lake Forest University, Chicago in 2006.
In 2008, Suri returned to India and founded ThoughtLine Technologies. Since then, for the past ten years, he leads the company as Managing Director and CEO. Starting from the underground office floor in Technopark with 2 employees in 2008, ThoughtLine team has grown to a modest size of 150+ employees with operations in India, USA and Europe. In 2013, ThoughtLine moved into Phase III of Technopark as the first company to setup their offshore development center, in the newest addition to Technopark. They are actively involved in the development and growth of the IT industry in the state of Kerala, with Brother Suri playing an active role in the Executive Committee of the IT industry body GTECH (Group of Technology Companies in Kerala).
Bro. Surendranath Villupuram Amarnath was initiated in Lodge Trivandrum No.168 in 2010. He is also a member of Mark Lodge and Holy Royal Arch Chapter. He is an avid reader, follows most sports, enjoys travelling and dabbles with photography.
Suri is married to Hema Valsala, a post graduate in Food Science & Nutrition. They have a daughter Kalyani Amarnath who is doing her Bachelor's Degree of Science in Visual Communications, SRM University, Chennai. She enjoys reading, is a history buff and hopes to be an illustrator someday.